Arnab Goswami WhatsApp Leaked Chat Raises Security Concerns, Mentions Hritik Kangana
WhatsApp chats, close to 500 pages, supposedly between news anchor Arnab Goswami and Ex-BARC CEO Partho Dasgupta have been leaked online. The chats went viral on Saturday, has started a controversy regarding security concerns as the chat mentions the Pulwama attack, Balakot airstrike, and much more.
The Whatsapp chats that have got leaked raise a number of questions regarding national security. Everything from financial frauds, the involvement of senior officials in high positions, conversations about 'buying' judges and discussion about the Balakot airstrike even before it happened.
Republic TV's Editor-in-Chief Arnab Goswami allegedly knew about India's response towards the Pulwama terror attack in advance. Not only this, it even appeared he shared this sensitive information with Partho Dasgupta, former BARC chief. The leaked chat mentions "something major will be done" "bigger than a normal strike" as told by Arnab Goswami to Partho Dasgupta. Now, what raises the concern is that the conversation happened on February 23, 2019, approx., three days before the IAF-led airstrikes in Balakot, Pakistan. This has made the opposition question national security and how such sensitive information can be leaked, asking for an internal inquiry.
Congress leader Abhishek Manu Singhvi said: "Arnab's chats dated 23.02.2019 refer to sharing of Intel re: action along the Pak border. It means someone very senior in government is leaking highly confidential info which may endanger the lives of our soldiers and so that mercenary considerations can add to TRPs."
Have a look at some of the leaked chats here: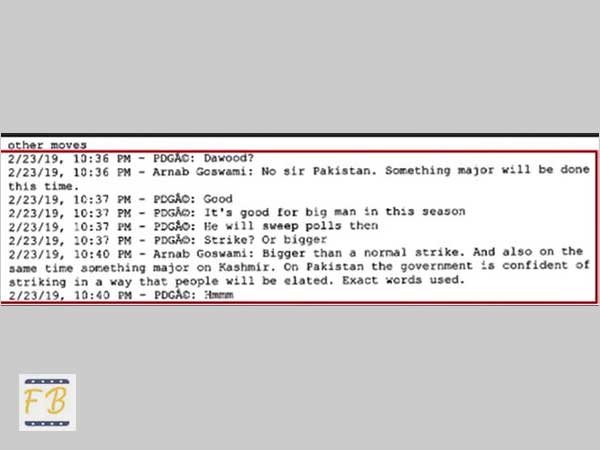 In one of the leaked chats, Arnab said Kangana is sexually possessed with Hritik and she has erotomania. This chat is from 2017 when Arnab Goswami interviewed Hrithik Roshan, where he openly spoke about Kangana's allegation.
Have a look at the chat that mentions Hritik and Kangana:
The TRP scam
Arnab Goswami was also named under the TRP scam that was an operation to change television ratings, which got uncovered in October. It happened when the Broadcast Audience Research Council filed a complaint blaming some channels for rigging their ratings by bribing. On December 25, Milind Bharambe, Mumbai Joint Commissioner of Police (Crime), said that a forensic audit report showing the rating agency's data revealed that since 2016 the numbers had been manipulated and that resulted in Republic TV being shown as the top-ranked channel.
The report also mentioned some emails and chats between rating agency officials. Mumbai Police have found more evidence against Arnab Goswami in this case and thirteen people have been arrested including Vikas Khanchandani, Republic TV Chief Executive Officer.