Know Top 10 Most Followed Accounts on Instagram and Popularity of Indian celebrities
Instagram is climbing the charts in terms of popularity and leaving many other social media platforms behind. Millions of active users sign in daily to get the latest updates of the outer world. Instagram is an ideal platform to stay updated with the whereabouts of your favorite people, especially famous personalities and celebrities. Even stars like to show off and share their personal and private lives with their audience and use Instagram for the same. Agree or not, Instagram followers give the direct idea about the popularity of the star; the more followers you have, the more influential you are. But want to know who has the most Instagram followers in 2021? We have curated a list that contains the most popular Instagram accounts in the world as well as in India.
Let's Know Who the Most Followed Person on Instagram Is
1. Instagram (@instagram)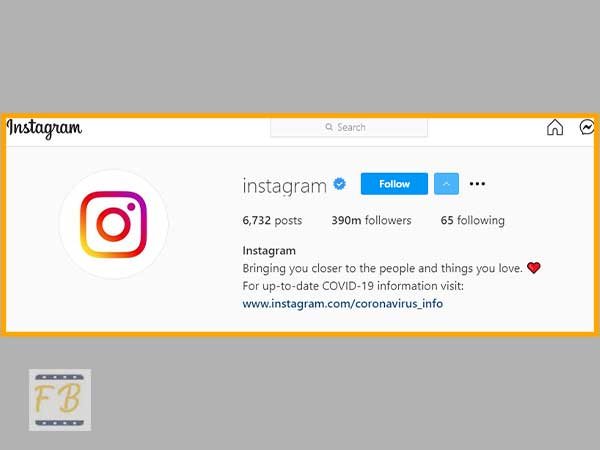 Obviously! How can Instagram not win the race of the top followed account on Instagram itself? Well, it is not a matter of coincidence as there is sheer hard work, dedication, commitment, and creativity behind it. Instagram hasn't done any finesse because users love the Instagram official account. With a whopping number of 385 million followers, the Instagram official is the top followed account on Instagram and the clear reason for this is those versatile 6,600 posts from none other than the most efficient team of the world i.e. "Team Instagram".
From the posts of the United States' horseshoe-shaped highways, snow-covered castles in Germany, the cat yawn, to the funniest videos by Elsa Majimbo, the Instagram team has left nothing uncovered to amuse its users.
2. Cristiano Ronaldo (@cristiano)
Cristiano Ronaldo is the real G.O.A.T alive, who deserves complete attention for all good reasons. This is why our beloved Juventus football star has more than 200 million followers on the platform. He is the first sportsman, even the first person in the world to reach this milestone with 252 million IG followers from every nook and corner of the earth. If IG had a universal platform, even aliens would have followed Ronaldo! All because, he has rocked the world with his sports skills, finest captaincy of the national Portuguese football team, and the pure gold heart. Ronaldo never goes overboard when it comes to IG posts, he generally can be seen posting about his family, life, Football, and promotional stuff for his label, CR7, and all; everything comes up randomly.
3. Ariana Grande (@arianagrande)
The Grammy Award winner of 2019 for Best Pop Vocal Album for Sweetener, the lady is a sitcom-star-turned-pop music sensation, guess who? Yeah, it's Ariana Grande who is taking Instagram by storm with a follower-count of 214 million. She is the top followed woman and netizens can't get over her behind-the-scenes moments. Not only on IG, but Ariana is well-famous for her singing skills. This diva has earned popularity which hasn't come to her overnight. Also, she loves posting photos of her performances, fun, and meetings with other celebrities and sneaks a peak in her pop and lavish life.
4. Dwayne Johnson (@therock)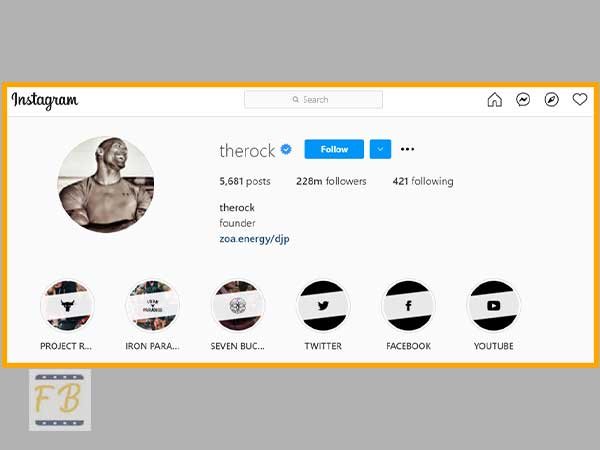 "The rock"- one of the most startling combinations of strength and generosity, has ruled the universe of WWE for a long time. Dwayne has also tried his luck in acting after giving some most memorable performances in wrestling and surprisingly he rose to the position of one of the highest-paid Hollywood actors. With 228 million followers on Instagram, Dwayne knows how to make the best use of the power of his IG account to surprise his fans, promote "Teremana"- his homegrown tequila brand, post the cherishing moments with his toddler, and flaunt his cheat meals. His every update is showered with love by his fans thus he is one of the most followed celebs on Instagram.
5. Kylie Jenner (@kyliejenner)
Kylie Jenner is contributing to global warming with her hotness! Well, on a serious note, Kylie Jenner is the top fifth person on Instagram with 225 followers. There was a time when Kylie gained hype for having the most-liked Instagram post of holding her newborn daughter Stormi. Later, the record was broken by the picture of an egg. It's funny, but in the world of the internet, everything is possible.
"@kyliejenner" is all about fashion, beauty, luxury, trends, makeup, and cuteness. There are plenty of baby photos, a little show of Kylie's love life, and a lot of interesting stuff.
6. Selena Gomez (@selenagomez)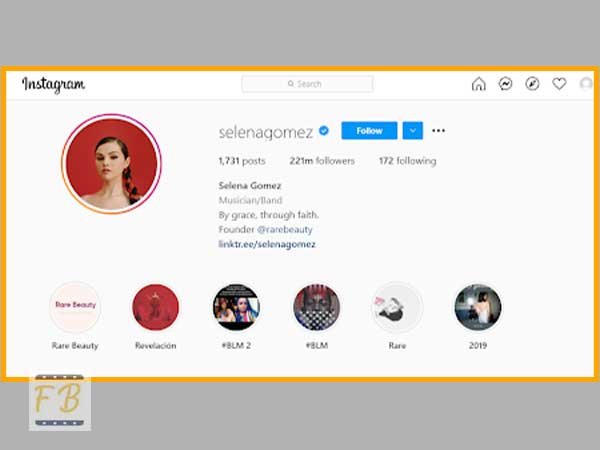 The American singer, producer, and actress is immensely popular on Instagram. Have you ever heard of Rare Beauty? Yes, that expensive makeup brand belongs to Selena Gomez. She is just 29 years old and owns her makeup line. Isn't it enough to get the idea of her success? If it's not, look at her Instagram follower count which is 221 million. She has one of the top followed accounts on Instagram. Her IG account has those typical celeb vibes to it; there are lots of posts about Rare beauty, human rights activism, her music and acting skits, creative content such as her shoot images, and a glimpse of Selena's personal and professional life.
7. Kim Kardashian (@kimkardashian)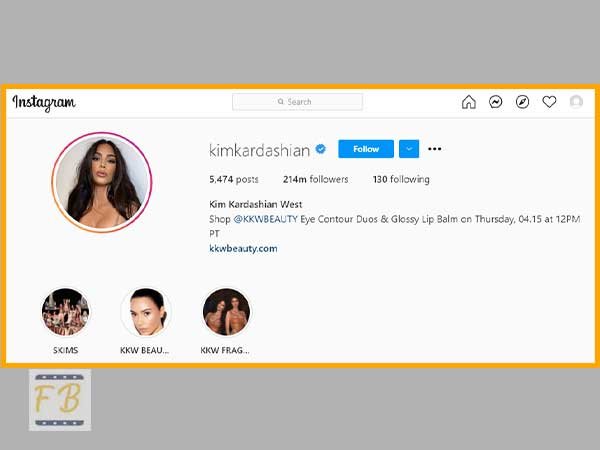 Another member from the Kardashian or Jenner clan who is ruling Instagram is Kim Kardashian. She is famous for her beauty-related content and her account is a quarry of videos, Reels, and stories. Not only this, she has done some marvelous work in the field of prison reform and thus she has a follower-base of 214 million. Lately, she has announced her divorce from her husband Kanye West and due to this, she has gained worldwide attention. If you want to know more about her personal life including old family photos, and current family reunions, follow her on IG.
8. Lionel Messi (@leomessi)
The next footballer in the list of most followed on Instagram is Lionel Messi. He has worked hard in his field to gain astounding fame and his love in the hearts of his fans is evident through the number of his IG followers. Around 196 million follow Messi. The captain of the national Argentinian team and Spanish club Barcelona likes to keep things low-key and hence he doesn't post very frequently if we compare with his counterparts. Even though he is shy, his posts are liked and spread like a fire in the forest among different social media platforms. Viewers can find his shorts of playing, moments from his personal life, and insights of his professional meetings, and most importantly His Lovable Dog!
9. Beyonce (@beyonce)
Attention Please! Queen Bey is here. Beyonce has won 24 Grammys so far and several milestones are craved under her name. The musician, actor, and businesswoman is giving goals to all ladies out there. Her Instagram account enjoys 172 million followers and you can often spot her posting about social issues such as Black Lives Matter, supporting Joe Bidden, and empowering Kamala Harris. Also, few shots from her professional life are available for her IG audience. She is one of the most searched and followed accounts on Instagram.
10. Justin Bieber (@justinbieber)
Justin is a Canada-based singer and lyricist who is making a splash over Instagram with 170 million followers. His IG account has witnessed a massive transformation over the past few years. From a troubled teen to a spiritually awakened man, Justin has paved his way in his life. He definitely has a vast fan base on Instagram for posting motivational quotes, cutest pictures with his wife Hailey Baldwin, and some work-related photos. This pop star is one of the most followed accounts on Instagram.
Most Followed Indian Celebrity Accounts on Instagram
1. Virat Kohli (@virat.kohli)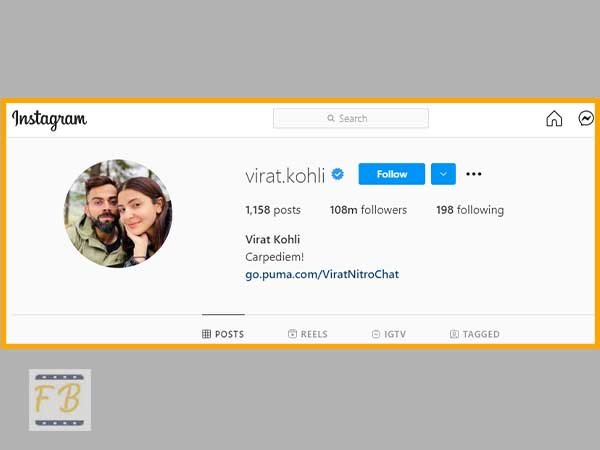 Indian cricket captain, fitness freak, and a new dad Virat Kohli have the highest Instagram followers in India. Virat has done some amazing work in the field of Cricket and due to his uncountable achievements, his popularity has gained a sharp rise in every corner of this world. His motivational quotes are best to lighten up your day and boost you with excitement and determination. He is not into posting serious stuff on social media mainly IG, therefore his account is loaded with light fun videos, photos with Anushka Sharma and his friends and colleagues. He is celebrating 108 million followers on Instagram and the number is constantly increasing.
2. Priyanka Chopra Jonas (@priyankachopra)
Priyanka Chopra Jonas is an international diva who has the second top followed person on Instagram in the Indian subcontinent. Priyanka is multi-talented, from acting, movie producing, philanthropist, to being Miss World winner in the year 2000, she has turned various stones in her career. Not only this, she is one of the highest-paid Indian actresses and her talent has been recognized internationally, thus was offered with shows like Baywatch. She has produced Ventilator the bestselling Marathi movie and worked with Dwayne Johnson and Seth Gordon in the American Television series Quantico. This is enough to justify her popularity over Instagram.
3. Shraddha Kapoor (@shraddhakapoor)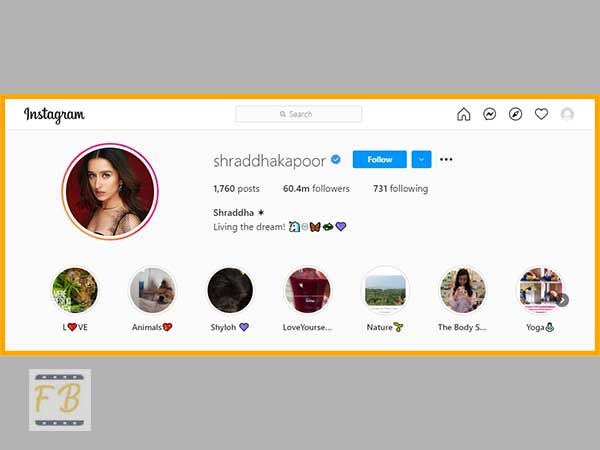 The third contender of the race of most famous Indian on Instagram is young actor Shraddha Kapoor who is known for her cuteness. Shraddha is the daughter of veteran actor Shakti Kapoor and an Indian actress and singer. She has many blockbusters movies under her name and this is the reason for her 60.4 million followers on Instagram. The biggest hit of Sharddha is Saho with the Telugu superstar Prabhas. Sharddha loves sharing her personal moments with her fans and thus her Instagram is full of lovely pictures from different aspects of her life.
4. Deepika Padukone (@deepikapadukone)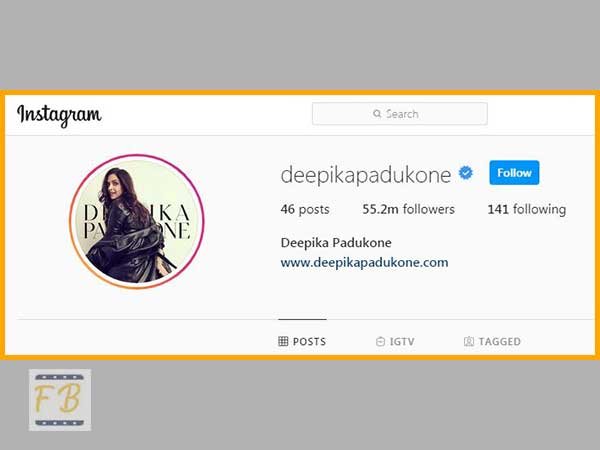 @Deepikapadukone is enjoying the fourth position on the list of top Instagram accounts in India. She has received three Filmfare Awards so far and her marriage with Ranveer Singh was the most sensationalized event of 2018. Deepika also has her name on the list of the nation's most popular personalities, and 100 most influential people in the world by TIME. She began her acting career in 2007 with the movie Om Shanti Om as lead female opposite Shahrukh khan. Her Hollywood debut movie was XXX: Return of Xander Cage in 2017. There are all valid reasons why masses are following Deepika on Instagram.
5. Neha Kakkar (@nehakakkar)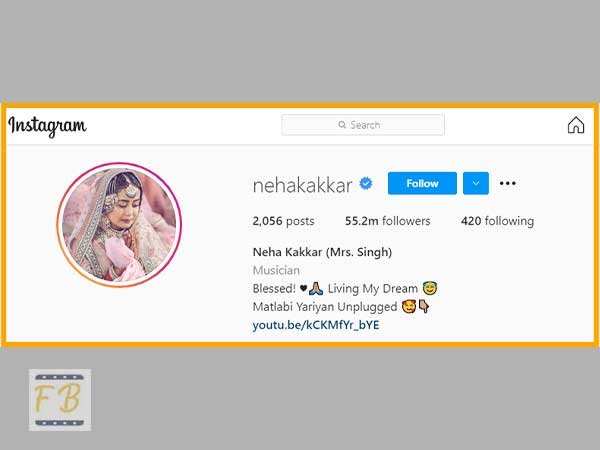 Neha Kakkar is a famous Indian singer who started with an Indian singing reality show named Indian Idol, in the year 2006. After that, she never looked back and has thrown some of the major hits of all time. From Kala Chashma, Nikle Current, to Dilbar Dilbar, Neha has given some iconic songs to the industry. With 55.2 million followers, Neha is the fifth most famous Indian person on Instagram. She is very regular with her posts and often posts singing videos, and photos of her.
Other most popular Instagram accounts in India are:
6. Narendra Modi (@narendramodi)
"The prime minister of India."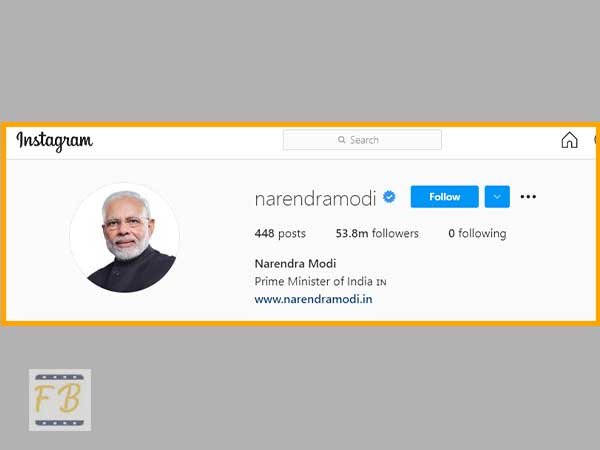 7. Alia Bhatt (@aliaabhatt)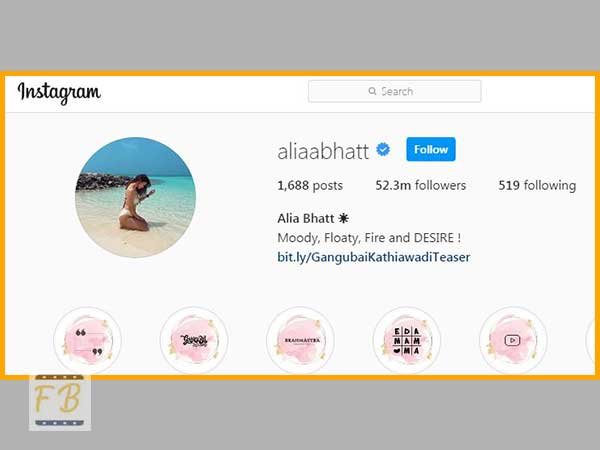 8. Akshay Kumar (@akshaykumar)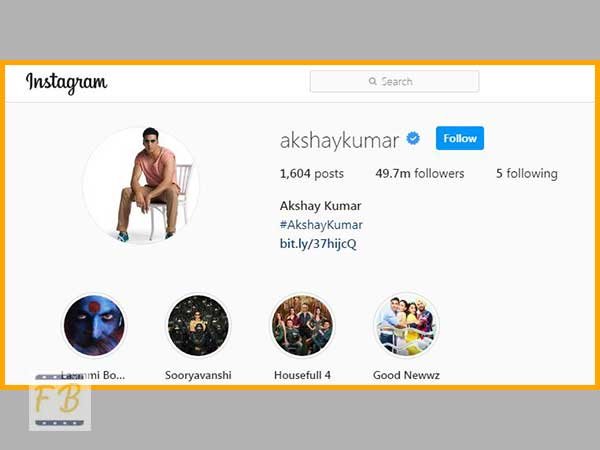 9. Jacqueline Fernandez (@jacquelinef143)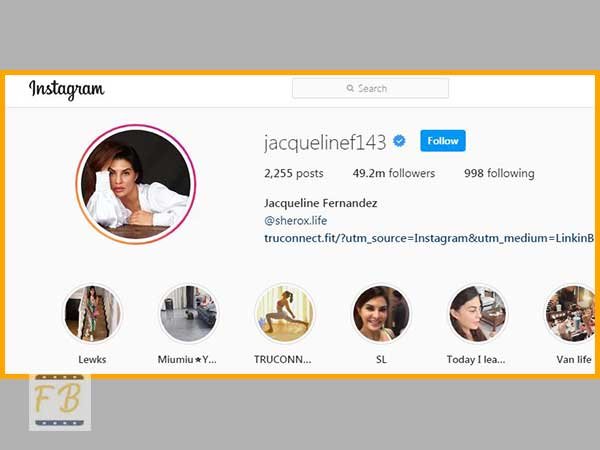 10. Anushka Sharma (@anushkasharma)
Indian actress, wife of cricketer Virat Kohli.