Top 17 Most Followed Celebrities Accounts on Twitter
Twitter gives you easy access to all your favorite celebrities, and now it has become possible to indulge in a direct conversation with your favorite personality, thanks to Twitter. The celebrities have a huge fan following depending on the news they have been a part of or the work they have done, so here we are going to tell you about who has got the best Twitter account and who is the most followed celebrity on Twitter.
Have a look at the most followed Twitter accounts starting from bottom to top:
We all have danced to the tunes of 'Hips Don't Lie' by Shakira. One of the well-known singers and songwriters, Shakira has released 68 singles, two extended plays, 35 music videos, and three music DVDs to date. She is the biggest pop star in the world and that's why has got millions of followers on Twitter. Her account is all about the promotion of her music, music videos, and interviews. However, she also posts about causes that are closer to her heart.
Followers- 54.4m followers
One of the founders of Microsoft and also the third richest person in the world, Bill Gates, has made his name in the tech world. He has also received a lot of awards during his lifetime and that's the reason he has got a lot of followers. His greatest achievement is that he founded the software company Microsoft Corporation with his friend Paul Allen. Last year, he spent $45.5 billion on charitable causes including the Bill & Melinda Gates Foundation.
Next on the list is another pop star, Demi Lovato. She is an American actor and singer and has a lot of successful projects in her name. Demi keeps her account updated with her latest releases and even retweets what she believes in. She loves to stay connected to her million followers through Twitter. However, she is not following anyone on Twitter, how shocking is that. She has won 61 awards and 213 nominations for her contribution to the entertainment industry.
Britney Spears is a well-established American singer, songwriter, and dancer plus one of the greatest actresses.
She started her career by starring in The All-New Mickey Mouse Club at the age of 11. She even started performing as a singer and dancer at a young age; however, her career was full of controversy and success. Even though she is not the top star today but has got a huge Twitter following. She keeps her fans updated about her upcoming projects and also shares a glimpse of her personal life.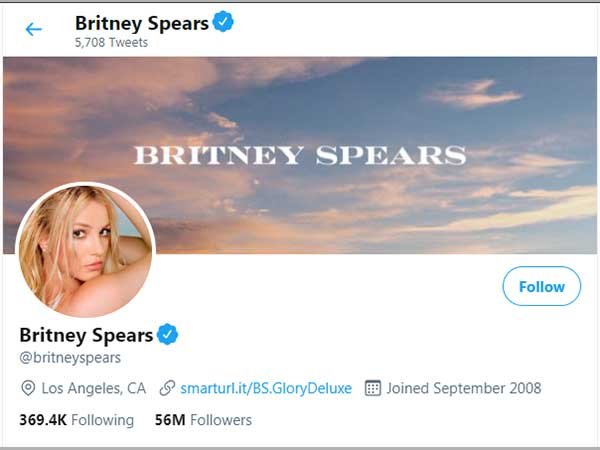 Next on the list of most followed persons on Twitter is Ex-boyband star and current solo artist, Justin Timberlake. Just like Britney Spears, Timberlake also began his career journey with The New Mickey Mouse Club; it was in 1995 when he became a teen heartthrob, however, he went on becoming a solo star in 2002 after releasing his album, Justified. On his Twitter account, he keeps his fans happy by posting his pictures, interviews, and upcoming projects.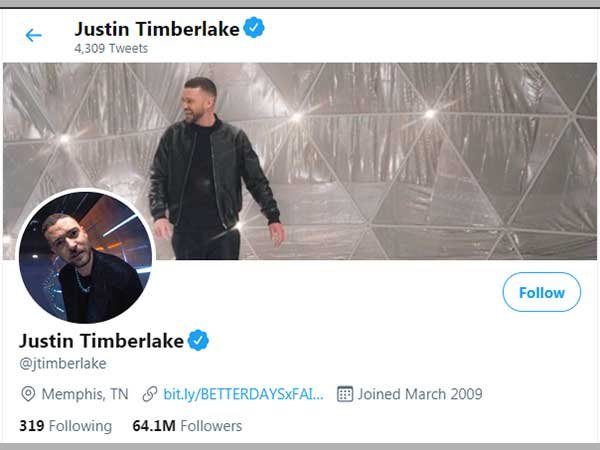 Pop stars have got a huge fan following on Twitter and that's why next on the list is Selena Gomez who is a singer, actress, and producer. She also started working at a very young age; in 2002 as a child actor. She also sang the theme song for her own Disney show 'Wizards of Waverly Place and the show was a huge success. Selena even got some limelight for her relationship with Justin Bieber. She is considered the 9th most influential celeb on Twitter and the proof is her 65 million fan following.
Narendra Modi, India's Prime Minister, is one of the most-followed people on Twitter and that's why he has made it to this list of most followed Twitter celebrities. He joined Twitter in 2009 and since then has been a dedicated user of the platform knowing how much influence it can have on politics. Being a busy politician and India's Prime Minister, he has a team who manages his social media handles but still, he has got people from all over the world following him.
Another most followed celebrity on Twitter, Kim Kardashian West is a well-known media personality, socialite, model, producer, actress, and businesswoman. On all of his social media handles, she has got a huge fan following and on Twitter, she's the 4th most influential woman. She keeps her Twitter account full of her pictures, and promotional stuff including general updates about her life. Kardashian got her first stint as a guest on Hilton-starring reality television series The Simple Life, between 2003 and 2006.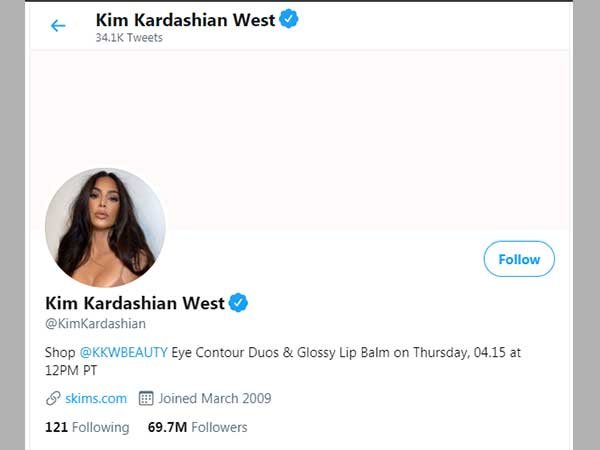 Comedian, talk show host, and ice road trucker; this is what her Twitter bio reads. Ellen is the host of the really popular Ellen show, and that's why she has got a huge number of people following her on Twitter too.
The major reason for her high follower count was her famous Oscars tweet that was the most retweeted tweet of all time. Her Twitter account is mainly educated to her talk show as her handle is also @TheEllenShow; so you will find all the pictures and clips that promote her show.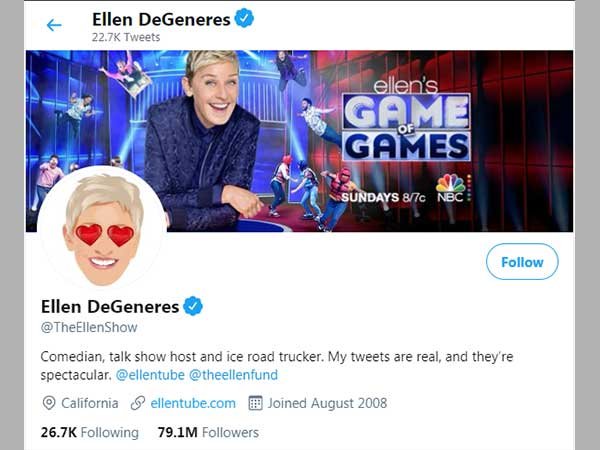 With 83million followers on Twitter, Ariana Grande is definitely one of the most followed twitter celebrities and due to her successive hits, she has always managed to be in the headlines. Her song 'thank u, next' started a storm on Twitter; maybe that's the reason you can see her on this list. She keeps her fan updated about her latest releases, and also shares clips from BTS. Apart from that, she also gives a lot of shout-outs to her fans.
Lady Gaga is mainly for her image reinventions and musical versatility; however, she is a singer, songwriter, and actress by profession. Although her real name is Stefani Joanne Angelina Germanotta, she adopted a new name to gain attention which she surely did. She is one of the top celebrities with huge Twitter followers, and she owes it to her success in music and acting. Lady Gaga is the 3rd most influential woman on Twitter and her followers include some top celebrities like Miley Cyrus, David Guetta, and Oprah Winfrey.
Taylor Swift is one of the biggest pop stars in the world and that's why you see her with a lot of Twitter followers. As per some surveys, Taylor is the most influential person on Twitter; however, you will see her posting about only his projects, songs, and interviews.
Taylor Swift rose to fame in 2004, at age 14, when she signed a music publishing deal with Sony/ATV. This made her the youngest signing in the company's history. In 2006 she signed with Big Machine Records and got her first Top 40 hit with "Tim McGraw."
Cristiano Ronaldo is the only sports personality with most Twitter followers. He is undoubtedly one of the best football players; apart from playing for the Portuguese national team, he has played at the biggest clubs in the world including Juventus F.C, Real Madrid, and Manchester United. Cristiano is the 4th most influential man on Twitter and his follower's list has some big names as well including Lil Wayne, Jack Dorsey (as in the CEO of Twitter), and Usain Bolt.
A Barbadian singer, actress, fashion artistic director, and businesswoman, Rihanna is another pop star on the list with the most followers on Twitter. She has given a number of hits in her career and her Fenty business is another reason that has kept her going strong; probably that's the reason she has a huge following on Twitter. Her Twitter account was recently in news for criticizing Donald Trump for using her songs at his rallies. Apart from that, her Twitter account is all about the usual promotional stuff, a few personal tweets, including shout-outs to collaborators and political posts.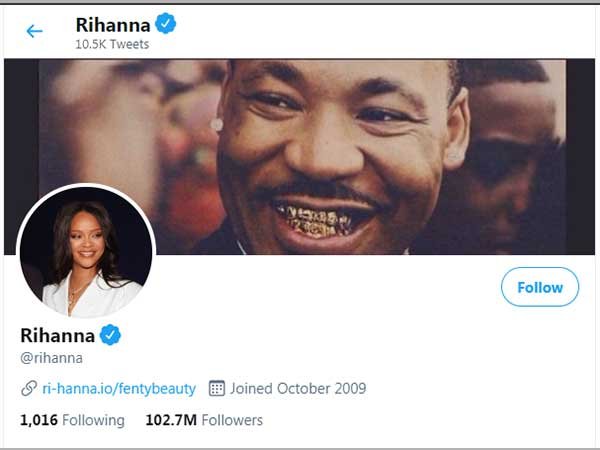 Leading Rihanna is none other than the world-famous pop star, Katy Perry. She started off her singing journey from churches, and today she has managed to establish herself as one of the biggest music sensations in the world. Katy Perry even got the title of being the 2nd most influential woman on Twitter. She mainly uses her Twitter account to post her own thoughts and personal messages; the promotional tweets are comparatively less than other top Twitter celebrities.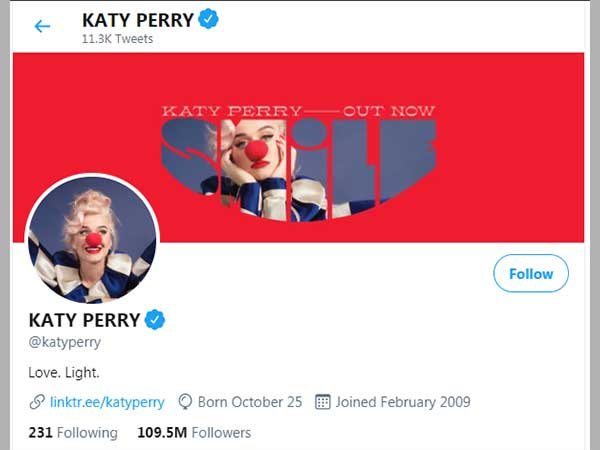 With more than 100 million followers, Justin Bieber has got the best Twitter account. He got all the limelight after his 2010 hit 'Baby' and since then he has never looked backward. He can always be seen updating his style and look and as he is growing in age, he is becoming one of the biggest stars out there. Justin has titled the 7th most influential man on Twitter and his account is also less promotional and is more about random thoughts.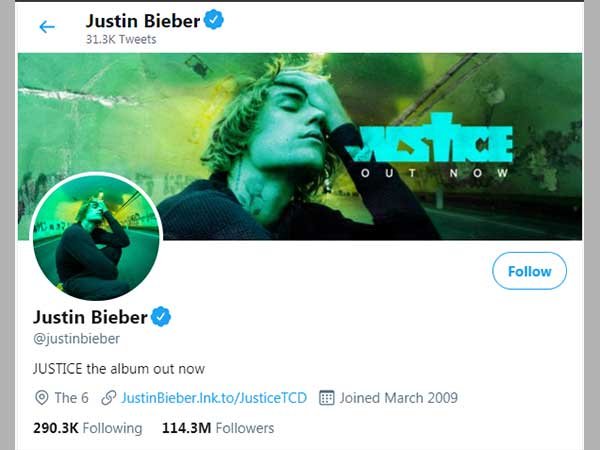 With more than 130 million followers, Barack Obama has the most followers on Twitter. He was the two-term President of the United States, Barack Obama and that's the main reason to have a lot of followers. Obama mainly tweets about his work related to his Obama Foundation. His account got into the news in 2019 when he posted a positive new year message of hope for the future, and it was compared to Trump's all-capitals rant about the media that he made a few hours earlier.
Nevertheless, he deserves all the applause for being the most followed person on Twitter.