Top 7 Anti-Dandruff Shampoos For Itchy, Flaky and Irritated Scalp
Having an itchy, flaky scalp? Is dandruff making you always conscious? Or You scratch your head like a monkey? We understand your state and thus we made an attempt to help people who are suffering to get rid of stubborn dandruff.
Dandruff not only gives you an itchy scalp, but it can also induce hair fall and other hair related issues such as greying. Therefore, one must not ignore dandruff and its effects. No matter it is mild or extreme, there are several ingredients that can help you to treat dandruff. Many medicated anti-dandruff shampoos that are available over the counter can fight dandruff and give you a clean and healthy scalp.
Main Reasons for Extreme or Mild Dandruff on Scalp
Oily, sensitive, or irritated skin due to seborrheic dermatitis.
Now washing hair regularly.
Malassezia, a type of yeast that can cause accumulation of cells on the scalp.
Dermatitis due to unsuitable personal care products.
How To Choose and Use the Best Dandruff Shampoo
Considerable Factors For Choosing and Using Best Dandruff Shampoos
Check active ingredients: Major ingredients for cleaning the scalp and controlling dandruff are Pyrithione zinc, selenium sulfide, ketoconazole, salicylic acid, and coal tar. If the formula of shampoo contains all these ingredients in the required ratio, you can achieve the clear scalp you desire.
Hair Type is Important: Both oily and dry hair types are prone to dandruff, and itchy scalp. Mind that, not all shampoos for dandruff can suit hair type, so first understand the quality of your hair and then make a choice. Usually, anti-dandruff shampoos are drying and thus can strip the moisture from your locks. Those who have dry, coarse, curly, kinky, or coiled hair types, are suggested to find shampoos that are hydrating and rich in shea butter, coconut oil, or aloe vera and make it the best shampoo for hair fall and dandruff.
The right way of washing: Pulling or too much rubbing can cause extreme friction and ultimate hair fall. Thus, be gentle with your hair while you are washing your hair. "While using an anti-dandruff shampoo, make sure you gently massage your scalp with fingertips and leave the shampoo for 4-5 minutes " dermatologists say. Also, make sure you pick an anti-dandruff conditioner instead of using a regular conditioner. So, after rinsing the shampoo, some of the active ingredients are left behind on the scalp, so that the treatment can work for you.
Frequency of Hair washes: Do not overdo or underdo when it comes to the frequency of washing your hair. In the beginning, use the anti-dandruff shampoo, twice a week and notice the changes that are occurring with your hair. Once you are comfortable with the after-effects of the shampoo, you can use it three to four times a week, if you desire. There is no hard and fast rule about the frequency as it totally depends upon how your scalp reacts to the active ingredients of the shampoo.
Now, let's uncover the magical products that can cure dandruff and bless your tresses.
1. Nizoral A-D Anti-Dandruff Shampoo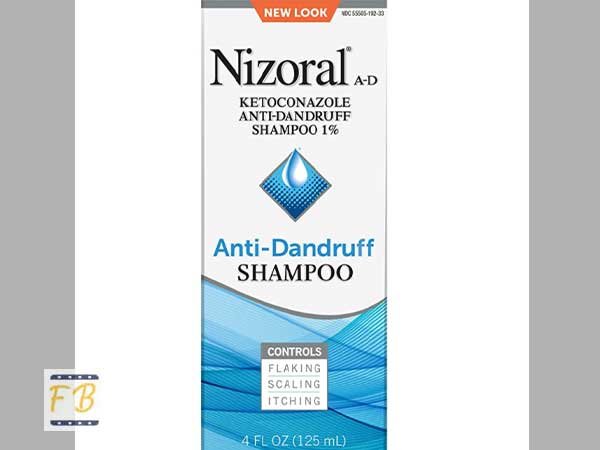 Purchase Links:
https://www.amazon.com/Nizoral-Anti-Dandruff-Shampoo-Ketoconazole-Dandruff/dp/B00AINMFAC
https://www.flipkart.com/nizoral-d-anti-dandruff-shampoo-imported/p/itmf3xfvwjzvgb5y
https://dir.indiamart.com/impcat/nizoral-anti-dandruff-shampoo.html
Nizoral is an excellent shampoo to treat dandruff and thus it tops our list. It contains ketoconazole which is a potent antifungal agent and mainly used in prescribed medications for curing dandruff and flaky scalp. It is not hard on your hair and thus can be used on color or chemically treated hair. It forms great leather to give you a nice and clean feeling with a pleasant scent. It is an ideal anti-dandruff shampoo for men and women.
Google reviews are quite crazy when it comes to Nizoral but in a positive sense. One top review says:
"This stuff is absolutely amazing. I was one step away from going to the dermatologist,"
Another wrote:
"I had severe dandruff that was so bad I could shake my head and it would come off. With just a few uses per week, I got rid of all of my flakes."
2. Dove Dermacare Scalp Anti-Dandruff Shampoo
Purchase Link:https://www.amazon.in/Dove-Dermacare-Shampoo-Dryness-Relief/dp/B01N49E07T
Several dermatologists suggest using Dove Dermacare for those who have dry scalp and frizzy locks. Dr.Fusco describes that this shampoo consists of pyrithione zinc as an active ingredient that works on the yeast that can cause inflammation and then flakes.
The shampoo has hydrating ingredients like shea butter to treat extremely dry hair.
One review about Dove Dermacare says:
"This product is amazing! I tried so many different kinds of shampoos and conditioners and the other products don't compare. I use it every other day and I don't have a dry scalp anymore and I can wear black without being paranoid. It is a great feeling to get back. I can't remember when I noticed results, I know it took a couple applications but in less than 2 weeks it was a day and night difference. I will continue to use this product for as long as they sell it."
Head & Shoulder Royal Oils Moisture Shampoo and Conditioner
Purchase Link: https://www.amazon.in/Shoulders-Moisture-Shampoo-Conditioner-Bundle/dp/B07NJ5J3PP
Head & Shoulder is the most renowned brand when it comes to anti-dandruff shampoo. Lately, the brand has crafted a line with Black scientists to provide protection and moisture to curly, and kinky hair. It not only cleanses your scalp but also hydrates hair for a perfect feel.
This shampoo doesn't strip oil from your hair as it consists of coconut oil as the main ingredient.
The first review on the internet says:
I don't know if it's been the weather or what, but for at least six months, I have suffered from extremely dry scalp and bad itching. Not to give TMI, but I would sometimes scratch to the point of drawing blood. The dryness and flakiness would affect the skin on my forehead, too. My mom suggested I try Head & Shoulders, and when I saw this one, specifically designed for African-American hair, I purchased it. The first shampooing and conditioning reflected no change, but after the second washing, I was stunned. I had been shampooing/conditioning and RIGHT after it, I was still badly flaky. These products from H&S have kept me from itching or flaking. I went for two weeks without washing and had not one flake or one itch. To say I am relieved and happy is an understatement!
4. Neutrogena T/Sal Shampoo Scalp Build-Up Control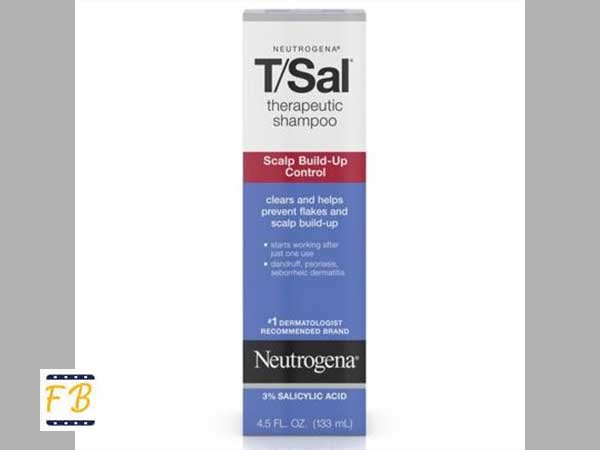 Purchase Link: https://www.amazon.in/Neutrogena-Shampoo-Scalp-Build-Control/dp/B000052XZX
We are all aware of the acne-fighting properties of salicylic acid but what it does to your scalp is quite amazing too. It is an excellent exfoliant to break down the flaky build-up that is causing itching and irritation. Dr. Zeichner says "Salicylic acid is commonly used to help remove excess oil from the skin and flakes on the scalp,". Though shampoo is an outstanding anti-dandruff treatment, it can dry out the hair. Especially, if you have colored or sensitive hair, it can be harsh for you.
"Best product I have used so far, as an anti-dandruff shampoo. It is expensive but a Must buy.
I leave it for at least 5-10 min and massage and then wash off."
On the contrary, another reviewer doesn't seem much impressed as it mentions:
| | |
| --- | --- |
| "It did not make much difference for me. within 2 days, I have the same amount of dandruff. Pricier. Hair becomes too dry. Product ingredients are not mentioned." | |
5. SheaMoisture African Black Soap Bamboo Charcoal Deep Cleansing Shampoo.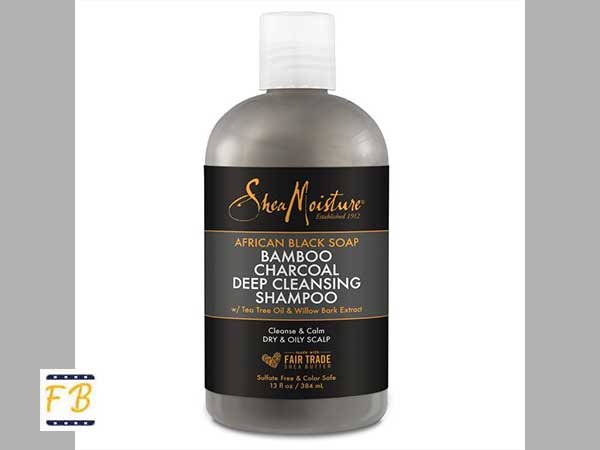 Purchase Link:
https://www.amazon.in/SheaMoisture-African-Charcoal-Cleansing-Shampoo/dp/B07N3X3HDB
The next anti-dandruff shampoo that is best for all hair types is SheaMoisture African Black Soap Bamboo Charcoal Deep Cleansing Shampoo. It contains African black soap, bamboo charcoal, salicylic acid, and tea tree oil. It's enriched with shea butter, coconut, and jojoba oils, and aloe to clean the scalp from dandruff without making it dry.
A review says:
"I love this shampoo. It is strong but not damaging to the hair at all. It leaves a clean scalp with little to no debris remaining. I use it in combination with the shea moisture conditioner."
6. Selsun Blue Moisturizing Dandruff Shampoo with Aloe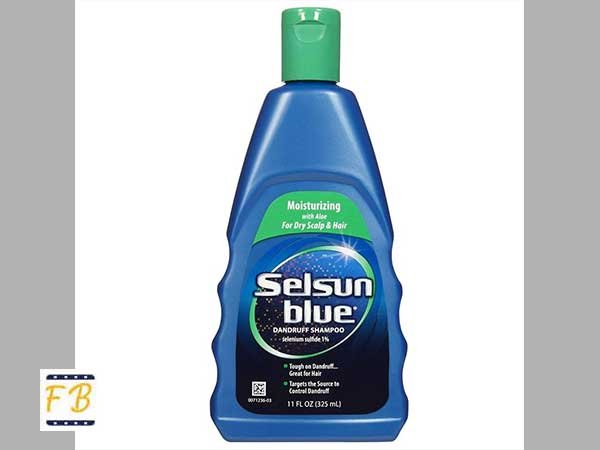 Purchase link: https://www.amazon.in/Selsun-Blue-Medicated-Conditioner-Treatment/dp/B000GCURBO
Selsun Blue is another great anti-dandruff shampoo that consists of selenium sulfide, which is a powerful agent against flake-forming yeast. In addition, it consists of hydrating ingredients to maintain the moisture of the hair. So, not only it treats your scalp but also nourishes your hair.
"Note: make sure you don't use too much product at a time, and thoroughly rinse your chemically treated or colored hair."
Look at this review for better understanding:
"I had ordered this almost two years back. Lasted till 1.5 years. Within the 1st month of usage itself, I could observe dandruff came into control. I used to have flaky dandruff all over the scalp which visibly reduced within a month. Initially used it twice a week and came down to once or twice in about 15 days. I am ordering it again as other products don't seem to have much effect."
7. REDKEN Scalp Relief Dandruff Control Shampoo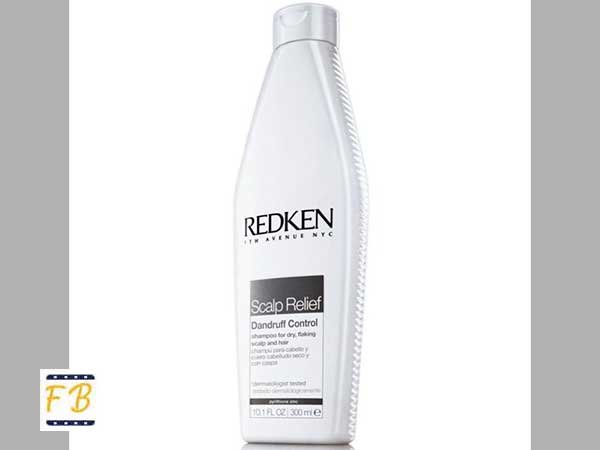 Purchase link: https://www.amazon.in/Redken-Dandruff-Control-Shampoo-298ml/dp/B000U6PW7K
If you want a product that smells great and does a great job in controlling dandruff, look no further. This shampoo has a very pleasing and refreshing smell of mint. With the composition containing pyrithione zinc as the main ingredient, the shampoo is a blessing for people with a flaky scalp. Also, it has the goodness of glycerine and lavender to moisturize your hair and leave your tresses soft and shiny.
Look at the review: (Translated version)
"I went through a phase where I suddenly had a completely dry, itchy scalp and lots and lots of dandruff. This is of course extremely uncomfortable and other dandruff shampoos did not really help, the same thing again after 1-2 days after shampooing. Since I trust the Redken brand, I thought this was my last resort. And indeed, after one application, significantly less dandruff, the scalp is calmed, no more itching. After 3 applications within 1 week everything is back to normal, no dandruff, no itching, I'm thrilled. The shampoo also smells pleasant, and after one use the scalp tingles slightly, but nothing persistent. I can only recommend it to everyone who finally wants to be free of dandruff!"