Embroidered Wedding Dress and Accessories
As a timeless and exquisite classic, lace has been used for years to create the bride's unforgettable and elegant image. A wedding dress with handmade lace, it seems, can not lose its relevance, so the lace patterns are constantly used as a special accent of the bride's outfit.
A charming wedding in a Retro style, wrapped in a golden patina of time, pearls, and lace? Or maybe you choose an elegant cut of an Empire wedding dress with an airy lace waterfall? Or the Victorian luxury of the last century with a royal scope? Among the variety of choices, it is challenging to decide. Here an experienced tailor will come to the rescue as a well-known master of perfect cut and embroidered wedding dress.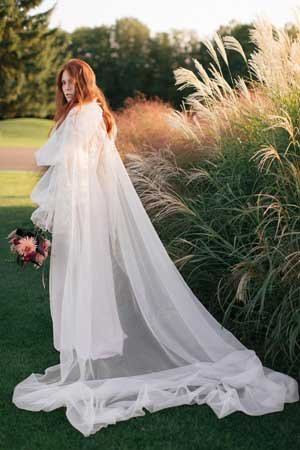 Lace Wedding Dresses
The wedding dress can be sewn entirely of lace material and complemented by fabrics such as satin, satin, silk, or taffeta. Lace or hand embroidery is also used as a laconic decoration. It all depends on your tastes. The cut of the wedding dress is very individual and should perfectly emphasize the features of the bride's figure. Therefore, the bride-to-be needs to choose a workshop for sewing wedding dresses successfully.
Cathytelle workshop for sewing wedding dresses with extensive experience offers you a wide selection of models and accessories with handmade lace decoration:
Wedding dress with lace top and openwork sleeves of various shapes and lengths creates lightness in any model.
A long train of lace emphasizes the elegant taste of the bride and, as usual, speaks of the size of the dowry. The train adds a unique, mysterious charm and hides the beauty of a woman until a special moment.
Colored wedding dresses, such as lavender wedding dress or crimson, go well with lace of the appropriate color. Such a combination as the canvas of a Venetian artist creates a fabulous picture full of color, harmony, and mysterious lines.
A waterfall of lace in a long wedding dress with an open back emphasizes the world about the relentless sexuality of the female silhouette.
Transparent fabric with developed snow-white patterns, covering the bride's back like a second skin, adds magic to her image. Here, the tailor's quality of lace and literally jewelry work is important because it will be the main decoration of the wedding dress with minimal accessories in the ears, neck, arms, and hair. A well-thought-out embroidery texture and pattern used to be harmoniously combined with color and the lines of the bride's silhouette. Chantilly, as the world's most exquisite lace, is perfect for this role.
Cathy Telle tailors sew straight-cut and closed-back models for slender brides who choose restraint and minimalism combined with natural cotton fabrics. This choice is becoming increasingly popular. She is restrained, natural, pure – the perfect image of the bride.
-Models of a classic A-line silhouette or a mermaid dress with a gade skirt are also an excellent example of an alternative combination of handmade lace and the usual cut.
Whatever model you choose, lace is a win-win choice. It can be the bride's design or designed specifically for her. In any case, it is worth rememberingthe main thing – lace is the central decoration of the image.
Lace as an Accessory
Handmade lace is a very refined thing, and it can be used not only to sew a wedding dress but also to create unique accessories.
Shoes. Even the bride's shoes can be decorated with lace, and they will be just as priceless as crystal shoes for Cinderella. Lace shoes will perfectly complete the image of the bride and its main idea.
Gloves. Thin women's hands, hidden by exquisite lines of embroidery on transparent water-like fabric, will only add fragility to brides. This special accessory requires careful treatment. It is also essential to understand whether it overloads the silhouette of the dress. Therefore, when choosing gloves, it is better to consult with an experienced tailor or designer.
Train or Hat. A hat, like gloves, is important accessories. Therefore, their creation should be taken into account when choosing a model of the future wedding dress. The hairstyle should also fit harmoniously to the whole image – with a hat and a train or without them. In any case, the use of lace in the creation of these accessories is almost limitless.
Lace Again?
The wedding florist can decorate the bride's bouquet with ribbons, pearls, or lace elements, often used to finish the bouquet handle.
Lace umbrellas for sunny weather will not only be a beautiful idea but also protect from the bright rays of the sun. Such a practical "accent" will prevent unsuccessful wedding photos with eyes narrowed by bright light.
Lace cape for sunny weather will protect the delicate skin of the bride no worse than an umbrella. Be sure to preserve the thick lace in cool weather. Ask your tailor this question.
Lace to the handbag: powder box, small mirror, phone, or napkins.
Decorating beaded bracelets with lace will look very original in addition to all the lace on the celebration, from which the reader is probably tired.
How to Choose the Perfect Lace
To choose lace, you need to determine what functions it should perform. There are many types of lace and even more ways to use it, as you have probably noticed. To look flawless and decorate more than one wedding in your family, you need to understand which part of the wedding dress you plan to sew the lace.
Frivolite, for example, is chosen for elements with a large load on the fabric – it's corsets, strong belts, or for the decoration of the base.
Irish lace or handmade lace will suit a loose-fitting dress due to its lightness and fragility of texture. Then the unique patterns will be revealed in full beauty and will fit even more to the bride's happy face.
Fillet-lace, which is applied to the net or macrame, the ornament of which is created by knotting threads – these are very delicate types of decoration, and therefore they are chosen for small elements.
The main requirement for any lace is softness, washability, uniformity and extraordinary comfort. By choosing lace as the main focus of the wedding dress, the bride will look gorgeous.