Top 13 Comedy Films Made In Bollywood to Add To Your Watch List Now
Comedy is a genre enjoyed by most of the audience. Such movies can be watched a million times with family or friends to get a good dose of laughter. Moreover, these movies tend to earn well at the box office as their performance completely depends on how much belly aches happened throughout the movie. Even if the story plot is weak, the film has complete chances of getting success on the basis of the comic timing of the actors involved. For years, Bollywood has been surprising the audience with good comedy films that will surely make you teary-eyed with laughter. If you are wondering which movie you should watch to keep all your stress at bay, here's a list of top 13 comedy movies of all time you can watch for a good comedy dose.
Golmaal (1979)

One of the highest-grossing comedy movies of its time, Golmal got all praise and awards for its funny confused story. How a man's simple lie to secure his job gets more complex day by day will definitely give you shrieks of laughter.

Cast: Amol Palekar, Bindiya Goswami, Deven Verma

Director: Hrishikesh Mukherjee





Hera Pheri (2000)

Story of two tenants and a landlord who are in desperate need of money, stumble upon a ransom call. They plan to claim the ransom for themselves and get involved in serious crime of kidnapping. A cult classic, Hera Pheri was totally loved and cherished by the audience. Babu Rao, Raju and Shyam trio again made the sequel 'Phir Hera Pheri' a hit and the third instalment is set to be released in 2021.

Cast: Akshay Kumar, Paresh Rawal, Sunil Shetty, Tabu

Director: Priyadarshan





Garam Masala (2005)

Stories of two flirts who are always found hitting on women even when one of them is already engaged. Full of comedy dialogues and scenes, you will not get a second to relieve your laughter. The story takes a turn when the fiancé finds that his would-be-groom is cheating on her.

Cast: Akshay Kumar, Paresh Rawal, John Abraham, Rimi Sen

Director: Priyadarshan





Padosan (1958)

If you are a 20's kid, ask your parents as this movie must have made them laugh their heart out. The story falls around a simple guy who falls in love with a beautiful girl living in his neighbourhood, takes the help of his friend to impress her. Comedy scenes together with legendary music have made this movie the best comedy film of all time.

Cast: Sunil Dutt, Saira Banu, Mehmood

Director: Jyoti Swaroop





3 Idiots (2009)

The story revolves around 3 friends who had all the fun during their college time but the 3rd went missing as soon as the college ends. Remaining two go on the lookout for their friend when they come to know the shocking truth. This movie is a mix of laughter and emotions and was the highest-grossing of its time.

Cast: Aamir Khan, Kareena Kapoor, R. Madhavan, Sharman Joshi

Director: Rajkumar Hirani





Dhamaal (2007)

A story of four lazy, jobless and homeless buddies who got to know about a hidden treasure. Their entire efforts to get the treasure will make you go rolling on the floor laughing for sure.

Cast: Sanjay Dutt, Javed Jaffrey, Riteish Deshmukh, Arshad Warsi

Director: Indra Kumar





Munnabhai MBBS (2003)

Munnabhai is one of the iconic characters of its time and has been really played well by Sanjay Dutt. The movie is about an underworld don taking MBBS course in a medical college to fulfil his father's dream. The Comic duo of 'Munnabhai and Circuit' will surely give you a good laugh.

Cast: Sanjay Dutt, Arshad Warsi, Boman Irani, Sunil Dutt, Gracy Singh

Director: Rajkumar Hirani





Vicky Donor (2012)

The movie is all about a new-age comedy where Vicky plays the part of a sperm donor and earns well. But soon the things went wrong when he gets married and the secret gets exposed. The funniest part is her wife cannot conceive, watch to find out what happens next.

Cast: Ayushmann Khurrana, Yami Gautam, Annu Kapoor

Director: Shoojit Sarcar





Namak Halaal (1982)

Who doesn't remember Amitabh Bachchan's famous dialogue 'I can talk English, I can walk English, I can laugh English because English is a very funny language. This movie made the audience go crazy with laughter and can say one of the best comedy movies of its time.

Cast: Waheeda Rehman, Shashi Kapoor, Amitabh Bachchan

Director: Prakash Mehra





Tere Bin Laden (2010)

One of the epic comedy movies of its time when a desperate reporter creates a fake video of a fake Osama Bin Laden in order to get easy immigration to America. However, the visa office shuts down and everything went as not planned.

Cast: Ali Zafar, Pradhuman Singh, Piyush Mishra

Director: Abhishek Sharma





Andaaz Apna Apna (1994)

It is a story of Amar and Prem, who belong to middle-class families. They compete to impress Raveena who is a millionaire's daughter. On their journey they come across a local gangster, Teja, who turns their lives upside down and all the funny scenes will make your belly ache badly.

Cast: Aamir Khan, Raveena Tandon, Karisma Kapoor, Salman Khan

Director: Rajkumar Santoshi





Golmaal (2006)

An Indian comedy film starring Ajay Devgan, Arshad Warsi, Shreyas Talpade and Tusshar Kapoor, Kareena Kapoor and Kunal Khemu. The four good-for-nothing friends get themselves into a blind couple's home and one of them acts to be the couple's grandson. All of them fall in love with the same woman and the blind couple unveils their own secret that makes it one of the best comedy movies of its time.

Cast: Ajay Devgan, Arshad Warsi, Tusshar Kapoor, Kunal Khemu, Rimi sen.

Director: Rohit Shetty




Heyy Babyy (2007)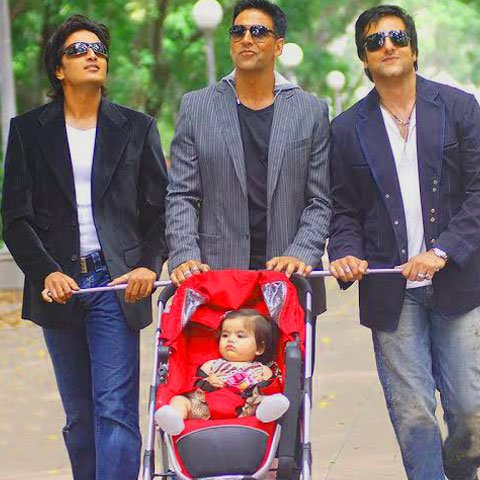 Another uproarious comedy movie you can watch multiple times. The story revolved around three womanisers who find a baby left at their doorstep. The funny dilemma begins when they try to contact their ex-lovers to find out who the father could be.
Cast: Akshay Kumar, Fardeen Khan, Riteish Deshmukh, Vidya Balan
Director: Sajid Khan