Top 40 Iconic Dialogues That Will Rule Bollywood Forever
We all have been raised by listening to some filmy dialogues. When I recall my childhood, I mostly heard my mother telling me sarcastically "Bete so ja, so ja nahi to Gabbar Singh aa jayega" and innocent me always took her seriously.
Here I have listed some of the popular filmy dialogues that have made our childhood and teenage much more memorable. Let's begin with the journey to the memory lane:
"Kitne Aadmi the"
This iconic dialogue from the movie Sholay is still afresh in our minds. 12. The scene featuring "Kitne aadmi the" was completed after 40 retakes.
"Bade Bade Deshon Mein Aaisi Choti Choti Baatein … Hoti Rehti Hai"
Who can forget the most cliché dialogue of Shahrukh Khan? Initially, Aditya Chopra wanted to cast Tom Cruise as Raj Malhotra. Thank Heavens!
"Rishte mein to hum tumhare baap hote hain, naam hai Shahenshah"
Amitabh Bachchan's greatest dialogue of all times is still used by people as a joke, and in social gatherings. Only a few people know that the actual dialogue contains the word 'Baap hote hai' instead of 'Baap lagte hai' that is usually uttered by fans.
"Kaun kambakht bardaasht karne ko peeta hai … hum toh peete hai ki yahan par baith sake, tumhe dekh sake, tumhe bardaasht kar sake"
This dialogue is originally from the movie Devdas (1955) delivered by 'Dilip Kumar Saab' and was modified for the SRK's version of Devdas.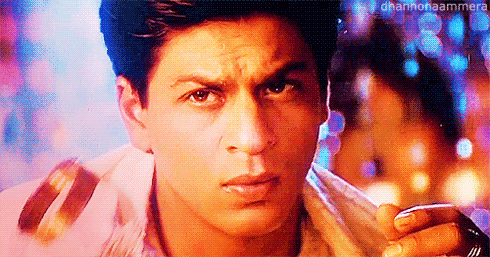 "Tum nahi samjhogi Anjali, Kuch Kuch Hota Hai."
This classic dialogue is still often used by teenagers in love. Lesser know that Twinkle Khanna was the first preference to play Tina's role, later played by Rani Mukherjee.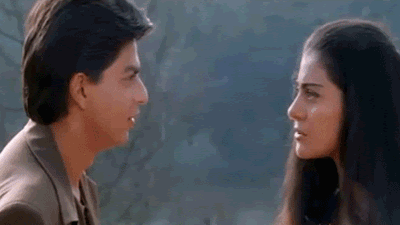 "Tarikh par tarikh, tarikh par tarikh, tarikh par tarikh, tarikh par tarikh milti rahi hai … lekin insaaf nahi mila my lord…mili hai toh sirf yeh tarikh"
Sunny Deol's iconic dialogue was used in the Economic Survey 2017-18 to emphasize on the delays in the judicial process.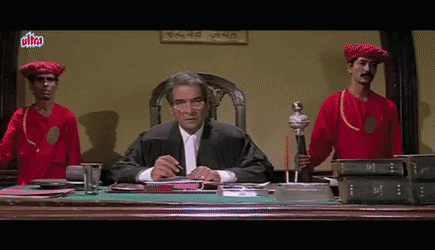 "Pushpa, mujhse ye aansu nahi dekhe jaate, I hate tears"
It is of the most iconic lines in the realm of Bollywood by Rajesh Khanna. A film titled 'O Pushpa I Hate Tears' (released in 2020) starring Krushna Abhishek, is a tribute to India's first superstar.
"Basanti in kutto ke samne mat nachna"
Another hit from the movie Sholay; it was during the shooting of this movie that love blossomed between 'Basanti' (Hema Malini) and 'Viru' (Dharmendra).
"Jaa Simran jaa, jee le apni zindagi"
These iconic words said by Amrish Puri perfectly define the patriarchal Indian society. Anupam Kher wanted to play the role of Amrish Puri that he was clearly denied.
"Mogambo Khush Hua"
It was the defining moment in Amrish Puri's career as this dialogue soon became a household favorite. Although the dialogue was quite simple, Puri's talent added the X-factor to it.
"Mere Karan Arjun Aayenge. Zameen Ki Chaati Phad Ke Aayenge, Aasman Ka Seena Cheer Ke Aayenge"
This dialogue perfectly depicts the emotions of all the Indian mothers for their sons. It was the second highest-grossing movie of its time.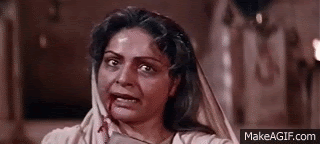 "Kabhi Kabhi Kuch Jeetne Ke Liya Kuch Haar Na Padta Hai. Aur Haar Ke Jeetne Wale Ko Baazigar Kehte Hain."
One of the best inspirational dialogue delivered by SRK. It was his first film that bagged him the first Filmfare award.
"Salim tujhe marne nahi dega … aur hum Anarkali tujhe jeene nahi denge."
One of the finest works of Bollywood, Mughal-e-Azam took 16 long years to complete at a cost of Rs 1.5 crore. Moreover, it was the first 100-crore film of all time.
"Holi Kab Hai, Kab Hai Holi?"
This iconic dialogue by Gabbar Singh gets popular during every Holi season. Fewer know that there was actually a dacoit named Gabbar Singh during the 1950's.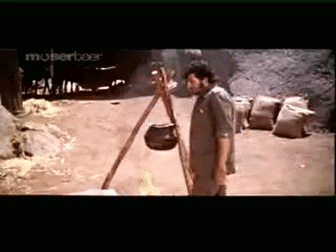 "Kutte, kameene, main tera khoon pee jaoonga"
The Dialogue would have never been the same if it didn't come from Dharmendra. He represented the crime, pain, and action parts in the movie.
"Prem naam hai mera, Prem Chopra"
Who could think of introducing oneself in this way? Moreover, "Prem Naam hai mera, Prem Chopra" is the biography of the biggest villain of Bollywood.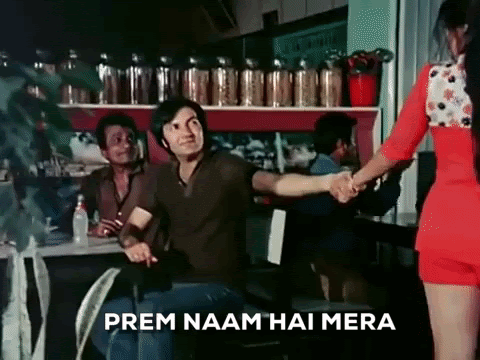 "Ek baar jo maine commitment kar di, To Apne aap ki bhi nahi sunta"
Salman Khan has a way with words and when he delivers a dialogue, it becomes the most uttered quote among the youth.
"I can talk English, I can walk English, I can run English… because English is a very phunny language"
This dialogue is always remembered when someone is asked about their English speaking skills and no one could have made it more phunnier than Amitabh Sir.
"Itni shiddat se maine tumhe paane ki koshish ki hai … ki har zarre ne mujhe tumse milane ki saazish ki hai"
It is one of the most romantic dialogues of the debut film of Deepika Padukone, currently the highest-paid actress in India.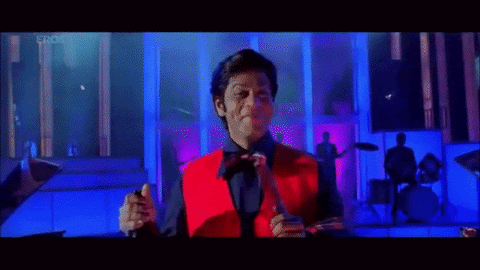 "Ye dhai kilo ka hath jab kisi pe padta hai na, to aadmi uthta nahi uth jata hai"
Sunny Deol's hot-headed dialogues in Damini were widely applauded. He was initially offered a cameo role but his powerful acting got him longer screen-time.
"Ye police station hai tumhare baap ka ghar nahi"
This dialogue gave Amitabh Bachchan the title of 'Angry Young Man' and introduced a new hero to Bollywood. Before Zanjeer happened, he gave 20 flops.
"Koi pyaar kare toh tumse kare, tum jaise ho waise kare… Koi tumko badal kar pyaar kare toh woh pyaar nahin, sauda hai"
This romantic dialogue from the movie Bobby has been recreated in the SRK's Mohabbatein; Rishi Kapoor was 20 and Dimple Kapadia was just 16 years old at that time.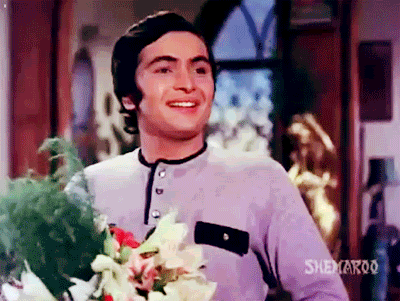 "Itna sannata kyu hai Bhai?"
Not many know that this dialogue from the movie Sholay was written by Kadar Khan. Everyone has uttered the dialogue at least once in their life while entering a quiet room.
"Kehte hain agar kisi cheez ko dil se chaho … to puri kainaat usse tumse milane ki koshish mein lag jaati hai"
Shahrukh made it the most romantic dialogue of its times and least know that it was just a line translated from Paulo Coelho's book "THE ALCHEMIST".
Rowdy Rathore (2012)
"Jo main bolta hu wo main karta hoon, jo mani nahi bolta wo main definitely karta hu"
It is one of the iconic one-liners of Bollywood. The dialogue received a lot of flak from Tamilians who complained it has been taken from Rajnikanth's movie Annamali.
"Tension lene ka nahin, sirf dene ka"
This dialogue makes complete sense in this digital age where everyone is stressed about something. Fun fact is Rohini Hattangadi who played Sanjay Dutt's mother in the movie is older to him just by a few years.
"Khamooooosh"
Isn't that enough? Shotgun's single word was sufficient to make the baddies shiver with fear. Even Shatrughan Sinha didn't realize when this word became his signature dialogue.
"Hum tumme itne ched karenge ke confuse ho jaoge saans kaha se le aur…."
One of the most iconic dialogue by Mr. Dabangg; Salman Khan tried around 50 styles before shooting for the film as he had never sported a mustache before in a film.
"Hum tumhe maarenge aur zaroor maarenege..lekin wo bandook bhi humari hogi, goli bhi humari hogi aur waqt bhi humara hoga"
No one can speak Raaj Kumar's dialogue with the same royal attitude. He was one of the superstars who had a long filmy career from black and white films to the 90s.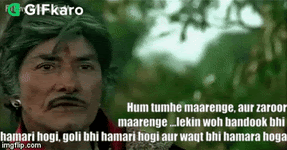 "Saara sheher mujhe Lion ke naamse jaanta hai"
This dialogue is etched in cinema history and we can never imagine this line coming from anyone else but Ajit Ji. He was a real-life baddie before he got a chance into movies.
"Don ka intezaar toh baarah mulko ki Police kar rahi hai, magar Don ko pakadna mushkil hi nahin Namumkin hai"
First in Amitabh's Don and then in Shahrukh's, this dialogue will live forever in the heart of the audience. The iconic song 'Khaike Paan Banaraswala' was never meant for this film but things eventually happened.
"Babu Moshai Zindagi badi honi chahiye lambi nahi"
Rajesh Khanna evergreen dialogues encourage all of us to live a happy and inspirational life. How could someone be so versatile every time? The term 'Babu' became popular after he used it in the film.
"Ek chutki sindoor ki keemat tum kya jaano Ramesh Babu"
The dialogue from Deepika's debut movie will definitely make you laugh out loud. Fewer know that her voice was given by dubbing artist Mona Ghosh Shetty.
"Thappad se darr nahi lagta sahab … pyar se lagta hai"
One of the best dialogues delivered by Sonakshi and you will be surprised to know that Salman was not the first choice for the role of Chulbul Pandey.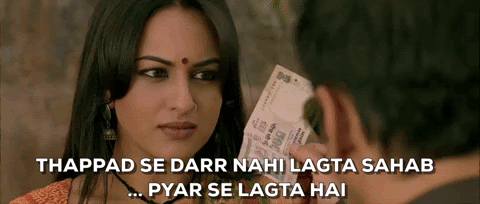 "Koi dhanda chota nahi hota aur dhande se bada koi dharm nahi hota"
Raees movie was based on real-life characters; however, the filmmakers denied this thing. This was the first time that Shahrukh acted in a crime action movie.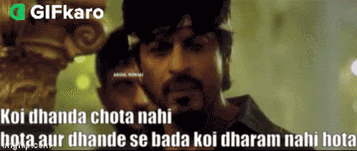 "My name is Khan and I am not a terrorist"
It was one of the most meaningful and moving films of Shahrukh and this startling dialogue spoke for a lot of Muslims who were considered equal to terrorists.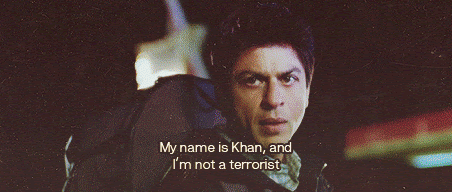 "Rahul, Naam toh suna hoga"
The most common household name of the 90s, Rahul; maybe just because of this movie and the heartthrob Shahrukh. Cheers to all the Rahuls out there!
"Mein Apni Favorite Hoon"
The self-obsessed Geet was loved by everyone and so were her dialogues. Not everyone knows that Kareena Kapoor signed the film only when Bobby Deol was replaced with her then-boyfriend Shahid Kapoor.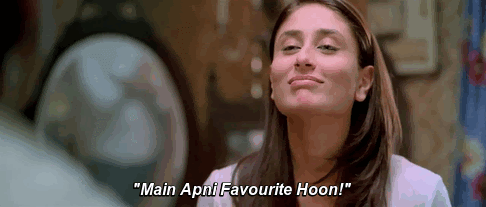 "Tumse Naa Ho Payega"
Gangs of Wasseypur depicted a real-life story and we can call it one of the best works of Anurag Kashyap. It was the first time; people appreciated actors and not just heroes.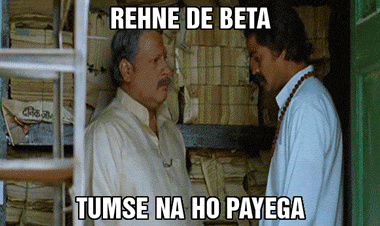 "Ye Babu Rao ka style hai"
This statement by Paresh Rawal will always remain inimitable and is one of the most used dialogues to signify someone's unique style.